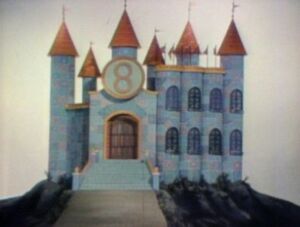 A bird friend leaves her egg in the care of Big Bird. The egg hatches and Big Bird tries to teach the baby bird some grown-up things, but everything goes wrong.
Maria is about to start a game about the parts of the body when smoke starts coming out of Oscar's trash can. Maria points out to Oscar the Grouch that burning trash hurts the eyes and makes everything dirty.
Cartoon: A little girl shows the building and apartment where she lives -- both with the number 6.
Kermit's Lectures: Grover helps Kermit demonstrate "long" and "short" by picking up a short ladder. Then Kermit says he'll help Grover bring in a long ladder, but Grover says he'll get it alone. He carries the long ladder past Kermit, who's amazed that Grover can get it all by himself. When the other end of the ladder passes by, Grover is holding that end too. (First: Episode 0276)
Film: A silent film about an automobile that can be either long or short. (EKA: Episode 0829)
Cartoon: Gloria, a rambunctious little girl, sings the alphabet song while an adult gives her instructions. (lowercase version) (First: Episode 0010)