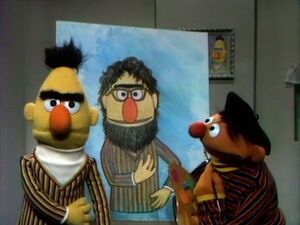 David has written a sentence in Spanish to tell Maria, but he loses the paper and forgets the sentence.
Ernie and Bert: Ernie is painting a portrait of Bert, but paints Bert with curly hair, glasses and a beard. When Bert gets angry about this, Ernie takes him behind the easel and puts curly hair, glasses and a beard on Bert. (EKA: Episode 0683)
Film: A girl named Jennifer visits family friend Mrs. Wilson in the country, and together they pick food from her garden. (First: Episode 0021)
An Anything Muppet man arrives at a gas station, hoping to be filled in a short time. Instead, his car takes a long time to fill while the attendant fills other cars in a short time. (EKA: Episode 0750)
Film: Footage of flamingos, ducks, and swans swimming.
Ad blocker interference detected!
Wikia is a free-to-use site that makes money from advertising. We have a modified experience for viewers using ad blockers

Wikia is not accessible if you've made further modifications. Remove the custom ad blocker rule(s) and the page will load as expected.