Ad blocker interference detected!
Wikia is a free-to-use site that makes money from advertising. We have a modified experience for viewers using ad blockers

Wikia is not accessible if you've made further modifications. Remove the custom ad blocker rule(s) and the page will load as expected.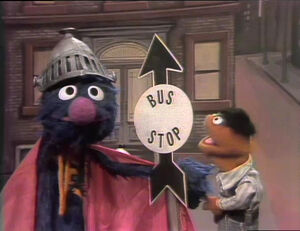 Big Bird imagines that he was the fastest wing in the west one hundred years ago.
Oscar charges a nickel for his argument in his new "Argument Boutique".
Buffy sings about the letter U.
Super Grover: A boy is confused -- his mother told him to take a bus home, but he doesn't know where to find the bus. Super Grover arrives, and they soon discover a sign that says "Bus Stop". The boy suggests that they found the answer, but Super Grover insists that his mother told him to take a bus home, not a sign. (EKA: Episode 0708)
Cartoon: A girl has a stick, which is used by a tightrope walker, clown and marching band leader. (EKA: Episode 0960)