Ad blocker interference detected!
Wikia is a free-to-use site that makes money from advertising. We have a modified experience for viewers using ad blockers

Wikia is not accessible if you've made further modifications. Remove the custom ad blocker rule(s) and the page will load as expected.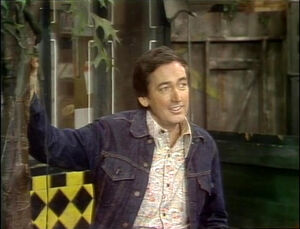 Big Bird and Scotty introduce the phrase "Wet Paint".
Luis and the kids sort by class using some plants and a telephone.
Film: A scuba diver collects shells, which some kids count in voice-over. (EKA: Episode 0751)
Cartoon: A girl imagines being next to a tree, a house and a car. "Now I'm going over there," she says. "There's nothing here to be next to!" (EKA: Episode 0810)
Cartoon: U for Ugly: A man removes his mask, revealing a hideous monster face. (EKA: Episode 0598)