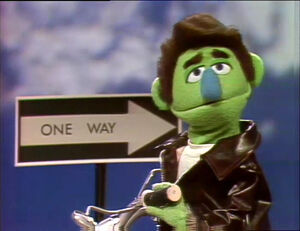 Olivia talks about being grown up, and being able to do things she couldn't do before.
"One Way": A greaser can't get to his girlfriend's house because of a "One Way" sign on the road. He thinks his relationship is ruined, until his guardian angel comes and shows him an alternate route he can take. The greaser's initial desperation -- "I'm so lonely I wish I was dead", he mourns -- turns to happiness, as the greaser and his girlfriend ride around the block on his motorcycle.
Bert: Bert sits outside on the Street, pretending to fly an airplane. Maria sits down with him, and the segment becomes animated as they fly through the air and around the world before returning to the Street. (EKA: Episode 0720)
Big Bird and the kids practice going over, through and around.
Film: Horses compete in a contest to see who can pull the most cement. (EKA: Episode 0881)
Ernie and Bert: Ernie proclaims to be the world's greatest counter, yet he counts very slowly, and starts all over again if Bert interrupts him. This slowly drives Bert insane. (First: Episode 0107)
Three cars are used to illustrate big, bigger and biggest.
Farley looks for "ME", asking, "Is this me?" Nope, it's a toy cat, and a pineapple, and a mirror. Looking in the mirror, he finds himself. (EKA: Episode 0724)
Ad blocker interference detected!
Wikia is a free-to-use site that makes money from advertising. We have a modified experience for viewers using ad blockers

Wikia is not accessible if you've made further modifications. Remove the custom ad blocker rule(s) and the page will load as expected.