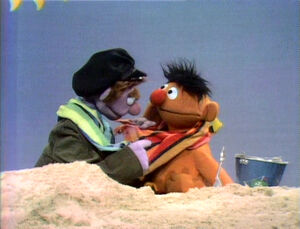 Oscar the Grouch shows a home movie, but it's completely dark; only sounds are heard.
Ernie and Bert: A tough guy named Tough Eddie accidentally knocks over Bert's sand castle while he's sleeping. Ernie points that out to Eddie, and Eddie tells Ernie, in a threatening tone of voice, that he's "got something" for Bert. It turns out to be an ice cream cone. (EKA: Episode 0774)
Cartoon: In rhyme, a man points out animals who stole and/or ruined his clothing.
Film: In a park, a garbage man puts litter in a trash can. Later, a man reads a newspaper, then shamelessly drops it on the ground. A little girl finds this disgusting, and puts the newspaper in the trash bin. (EKA: Episode 0811)