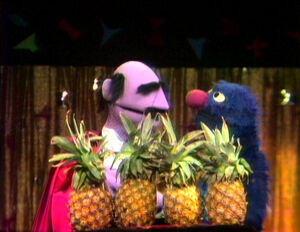 David and a child count from one to twelve.
Cartoon: A boy demonstrates why his dog's name is Happy.
The letter F joins U and N to make the word FUN. Some Anything Muppets appear and have a party.
Maria and the kids sort by form in Spanish.
Cartoon: A man has a "J" under his hat, and lists the various names and things that start with the letter "J" to another man. (EKA: Episode 0231)
Film: A kid enters a tunnel made of snow to demonstrate "head first" and "feet first." (EKA: Episode 0310)
Film: David narrates some films showing the homes of animals. (EKA: Episode 0839)
Ad blocker interference detected!
Wikia is a free-to-use site that makes money from advertising. We have a modified experience for viewers using ad blockers

Wikia is not accessible if you've made further modifications. Remove the custom ad blocker rule(s) and the page will load as expected.