Ad blocker interference detected!
Wikia is a free-to-use site that makes money from advertising. We have a modified experience for viewers using ad blockers

Wikia is not accessible if you've made further modifications. Remove the custom ad blocker rule(s) and the page will load as expected.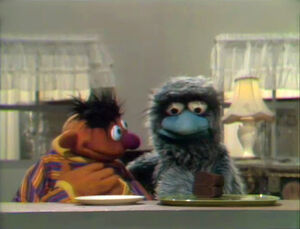 Ernie and Bert: Ernie eats the cake that Bert was planning to eat. Bert sees some icing on Ernie's mouth, a bib around his neck, and a fork and knife in Ernie's hand, and Ernie tells Bert that a monster came in, ate Bert's cake, and put the evidence on Ernie. Bert doesn't believe Ernie's lie and gets another piece of cake, but when he leaves the room, Beautiful Day Monster comes in and does exactly what Ernie told Bert happened to the first piece. Ernie tries to explain, but Bert doesn't believe him. (First: Episode 0119)
Ernie and Bert: Ernie has a so-called "magic" chain which can form into any shape he wants. Bert is dismissive of the chain's magic properties. And yet, when Bert asks for the chain to provide a sandwich, it does. (EKA: Episode 0680)
Film: A boy imagines seeing everything in slow-motion.
Cartoon: Two dots play hide-and-seek amongst different shaped blocks. (EKA: Episode 0833)
Film: A kid marching band counts to twenty.