Ad blocker interference detected!
Wikia is a free-to-use site that makes money from advertising. We have a modified experience for viewers using ad blockers

Wikia is not accessible if you've made further modifications. Remove the custom ad blocker rule(s) and the page will load as expected.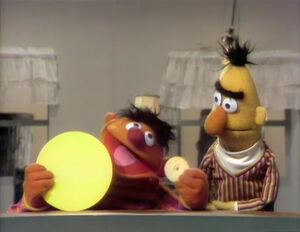 Maria pours dry beans into a glass jar to demonstrate empty and full.
Luis explains the meaning of a "Wet Paint" sign to Big Bird.
Cartoon: Three chickens eat grain, and become full, fuller and fullest. (EKA: Episode 0897)
Cartoon: Psychedelic numbers count from 10 to 1, then back to 10. (EKA: Episode 0827)
Cartoon: A postal worker tells the viewer what the post office is good for. (EKA: Episode 0929)