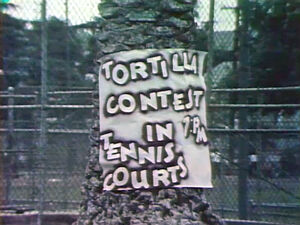 Ernie and Bert: Ernie wants Bert to pretend to be mad, but Bert says that he can't, because he has nothing to feel angry about. Ernie asks Bert to pretend that he borrowed Bert's paper clip collection, and lost his favorite paper clip. The thought makes Bert really mad. Bert gets tired out and tells Ernie that he can't get mad anymore. Ernie makes a confession -- he really did lose Bert's favorite paper clip. (EKA: Episode 0267)
Linda and the kids sort by size using cut-outs of faces.
Cartoon: "Poverty H"--A red man tries to think of words that begin with H, but a yellow man keeps spewing them out until Red draws a hole under Yellow, who yells "HELP!!" (First: Episode 0020)
Cartoon: The letter K walks out of the word WALK on command.
Film: While watching her goldfish, a girl wonders what the world is like from her goldfish's perspective. (EKA: Episode 0709)
Cartoon: "Count Up Elevator" -- An elevator operator stops at ten floors to pick up passengers, including a witch, a fireman, and a kangaroo. The tenth passenger, a mouse, causes the elevator to overload and explode. (First: Episode 0003)
Ad blocker interference detected!
Wikia is a free-to-use site that makes money from advertising. We have a modified experience for viewers using ad blockers

Wikia is not accessible if you've made further modifications. Remove the custom ad blocker rule(s) and the page will load as expected.