Ad blocker interference detected!
Wikia is a free-to-use site that makes money from advertising. We have a modified experience for viewers using ad blockers

Wikia is not accessible if you've made further modifications. Remove the custom ad blocker rule(s) and the page will load as expected.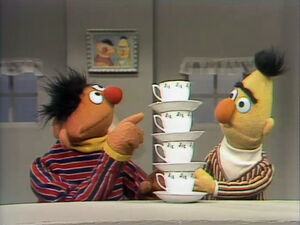 Hubley animation: A black cat chases after a white bird, until a white lion steps in. (EKA: Episode 0269)
Cartoon: A story of a man who hates frogs, until his swamp becomes infested with flies. (EKA: Episode 0407)
Cartoon: The long rattlesnake thinks he's better than the short one, until the short one outsmarts him by making him bite his own tail. "Wanna borrow my snakebite kit?"
Film: The sign CLOSED spins around.
Cartoon: A cleaning lady (reminiscent of Carol Burnett's character) wanders into a music rehearsal room, plays each instrument, and puts all the sounds back into the wrong instruments. (EKA: Episode 0928)