Ad blocker interference detected!
Wikia is a free-to-use site that makes money from advertising. We have a modified experience for viewers using ad blockers

Wikia is not accessible if you've made further modifications. Remove the custom ad blocker rule(s) and the page will load as expected.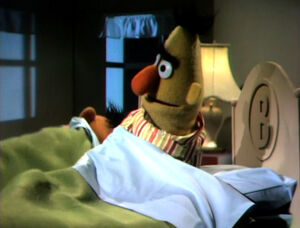 Ernie and Bert: Ernie lies in bed and starts talking about how a square looks like and how many lines it has, then goes on to compare a a square with a triangle. And then starts to ponder about how many sides a circle has, and goes to sleep just as Bert is about to attempt to answer the question, and ends up not being able to sleep. (EKA: Episode 0239)
Ernie and Bert: Bert refuses to share his cookie with Ernie, who tells Bert that if the cookie was his, he wouldn't mind sharing. Ernie takes the cookie, and asks Bert to ask him if he would share it. (EKA: Episode 0592)
Film: Clowns show tall and small.
Film: Kids train for the special olympics.
Cartoon: A goat discusses the letter "G". A man comes by to also talk about G, but rather than point out that "goat" is a G word, he observes the grass. Disgusted, the goat butts the man out of the way. (First: Episode 0085)
Film: A boy pretends a wagon is a bus. His friend tells him it's not a bus, and explains what her father, a real bus driver, does. (EKA: Episode 0181)