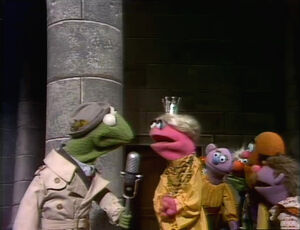 Gordon misses three buses because he took time to help his friends.
Sesame Street News Flash: A princess says that the one she has chosen to be her prince has bulgy eyes, small ears, and a funny voice, and is wearing a hat and coat. Kermit the Frog is the only one who fits that description, so she kisses him, thinking he'll become a prince. In a puff of smoke, she turns into a frog. Kermit invites her to "the hop", and she accepts.
Cartoon: Three birds enter a cuckoo clock to do their job. (EKA: Episode 0560)
Film: Kids narrate a film of kittens in English and Spanish. (EKA: Episode 0830)
Film: "Head to Toe Puzzle": Two kids put together a puzzle of a boy. (First: Episode 0024)
Cartoon: A little girl tries to figure out why a dog is crying. (EKA: Episode 0862)
Cartoon: "Danny knows the alphabet, and is he proud! If you can follow him, then sing out loud!" (EKA: Episode 0406)
Ad blocker interference detected!
Wikia is a free-to-use site that makes money from advertising. We have a modified experience for viewers using ad blockers

Wikia is not accessible if you've made further modifications. Remove the custom ad blocker rule(s) and the page will load as expected.