Sesame Street
Plot
Olivia resents it when Gordon looks after her.
Air date
December 31, 1976
Season
Season 8 (1976-1977)
Sponsors
W, Y, 4

This episode guide has been compiled from materials at the CTW Archives.

ⓘ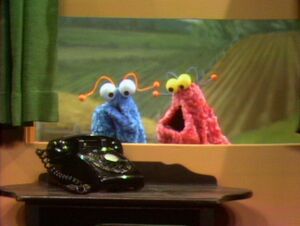 Olivia resents being looked after by her brother Gordon, now that she's a grown-up. She sings "I'm a Big Girl Now", where she explains that even though Gordon helped her a lot when she was younger, she's all grown up and doesn't need it as much.
Kermit at Home: Grover is outside in the snow, freezing. He keeps knocking on Kermit's door, asking how to get warm, and Kermit keeps telling him to come inside. Grover, missing the point, tries ideas of his own to get warm, but they don't work. Finally, Kermit tells Grover that if he wants to get warm, he should come inside. Excited, Grover pulls Kermit aside and slams the door, locking Kermit outside. Grover goes to sleep in Kermit's armchair while the frozen frog scrapes at the window. (EKA: Episode 0598)
Cartoon: A little girl imagines what would happen if she dropped her bag of ping pong balls. (EKA: Episode 0899)
Film: Footage of a coral reef, showcasing the plant life and the fish. (EKA: Episode 0824)
Cartoon: W for Wilhelmina
Olivia sorts by class using pictures of children and Big Bird.
Cartoon: A boy talks about his pet letter Y, named Yetta. (EKA: Episode 0600)
Cartoon: A man, dog and bird make CASAs for each other. (EKA: Episode 0825)