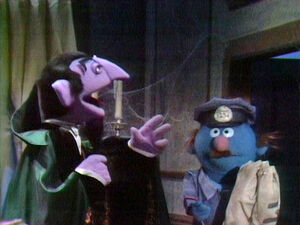 Count von Count: As ominous music plays, the Count walks around his castle, checks out the mirror (he has no reflection), and greets his bats. The mailman (Jim Henson) comes with a bunch of letters for Count. The mailman wonders why there are so many letters. The Count says that he wrote them all himself, so he could count them... and he does! (EKA: Episode 0592)
"There's a Hole in the Bucket": When Henry discovers a hole in his bucket, he tries to figure out how to solve the problem. His wife, Liza, patiently tries to help him by explaining what to do, but is frustrated with his incompetence.
Cartoon: A girl shows how good she is at drawing buildings. (EKA: Episode 0858)
Film: Children are encouraged to build a simple tower from blocks.
Cartoon: Vaudeville duo Herman Happy and Stanley Sad sing a song about how they live up to their names. (Spanish version) (EKA: Episode 0823)
Film: How lakes and streams are formed
Animation: A lollipop finds its place next to another lollipop. (EKA: Episode 0838)