Ad blocker interference detected!
Wikia is a free-to-use site that makes money from advertising. We have a modified experience for viewers using ad blockers

Wikia is not accessible if you've made further modifications. Remove the custom ad blocker rule(s) and the page will load as expected.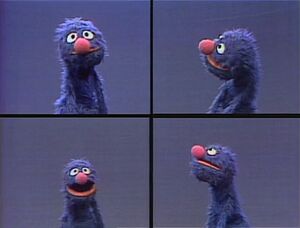 Cartoon: A picture of a girl playing a guitar is drawn as off-screen kids (speaking English and Spanish) try to guess what the drawing will be. (EKA: Episode 0406)
Film: Wheel rolls away from garbage, boy captures it to complete his wagon. (EKA: Episode 0767)
Cartoon: "Z" -- A ringmaster explains that "Z" is for zebra and zoo. (EKA: Episode 0307)
Film: Mr. and Mrs. Snow (snowmen) talk about bottom, middle, head, and other body parts and clothing as their parts are put together. (EKA: Episode 0277)
Cartoon: A supermarket worker stacks 12 cans, which keep collapsing every time someone grabs one.
Film: 10 clowns exit a car, then count back down as they re-enter.
Cartoon: The word YES follows a man.
Film: Birds sitting in the water fly away.
Cartoon: A polar bear has difficulty seeing other animals because they blend into the background.