Episode 0946
Talk

0
27,143pages on
this wiki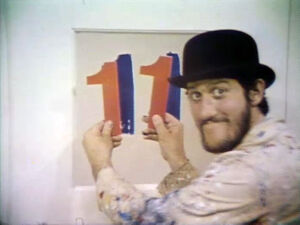 Big Bird sings "Admiral Bird", playing the role of the Admiral of the Navy.
The Mad Painter attempts to paint an 11 in a doctor's office, but is unable to act in front of the waiting patients. Though he paints an eleven on the door, a janitor washes it off, and the nurse yanks the painter into the office. (EKA: Episode 0351)
Big Bird talks about the beach.
Cartoon: Things say that other things are small, but then something comes along that's bigger, or smaller, or whatever. (EKA: Episode 0320)