Ad blocker interference detected!
Wikia is a free-to-use site that makes money from advertising. We have a modified experience for viewers using ad blockers

Wikia is not accessible if you've made further modifications. Remove the custom ad blocker rule(s) and the page will load as expected.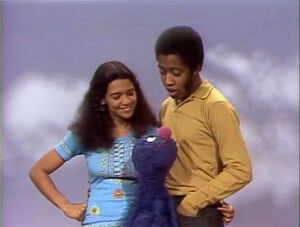 Ernie and Bert: Ernie is a coach for his baseball team, which is made up of three balls. He brings in three small caps and a huge yellow cap for them to try on. When the balls try on the big cap, it covers them up. Ernie gives the balls the small caps, and they're ready to start. Ernie wonders where the huge cap came from, and a big basketball bounces on -- the captain of the opposing team -- and demands to have his cap back. Ernie ends up postponing the game once he sees the competition. (EKA: Episode 0698)
Cartoon: The weary traveler asks the Wise Man to demonstrate "here" and "there." He does so by throwing his household items off the cliff. (EKA: Episode 0814)
Cartoon: A man talks about the letter J with a jack-in-the-box, whose lid ends up crushing him. (First: Episode 0071)
Cartoon: The story of an old woman who lived in a nine. (EKA: Episode 0598)
The Count uses words that start with the letters of the alphabet.
Cartoon: Sally Spider skates on all 8 legs. (Spanish version)
Film: Future careers: footage of a kid acting out a certain job, followed by an adult doing "the real thing." (EKA: Episode 0796)
Cartoon: A man uses a ladder to climb up to the top of a capital L. (First: Episode 0036)