Sesame Street
Plot
Mr. Snuffleupagus has a drink before bedtime.
Air date
December 15, 1976
Season
Season 8 (1976-1977)
Sponsors
M, N, 3

This episode guide has been compiled from materials at the CTW Archives.

ⓘ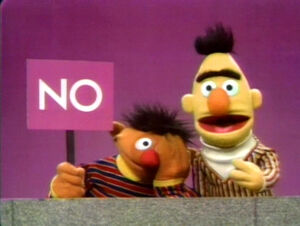 Harvey Kneeslapper is looking down and saying "Three sticks!" A man asks "Three sticks where?" Then Harvey says "3 sticks right here!" and sticks a number 3 on the man's head.
Ernie and Bert: Herry Monster holds a sign with the word "NO" on it, and tells Ernie that he can make him read his sign, to which Ernie replies "Oh no you can't!" When Ernie gets the joke, he tries it on Bert, but the gag backfires on him when Bert bets he can get Ernie to read the sign. (EKA: Episode 0676)
Grover the Assistant: Grover volunteers to be the Amazing Mumford's assistant when he performs a magic trick. The trick involves Grover sitting on top of a platform held up by a pillar, which Mumford will yank from underneath the platform, and the platform will not fall. The trick works for Mumford ... but not for Grover when he tries the trick on Herry Monster. (EKA: Episode 0332)
Cartoon: "A Loaf of Bread, a Container of Milk, and a stick of Butter" -- A little girl remembers what to buy at the store by visualizing her mother giving the instructions. Artist: Jim Simon (EKA: Episode 0420)
A cow "noos" because they confused the letters M and N.
Cartoon: Fisherman Jones demonstrates in, on, and under with his boat and a giant "fishie". (EKA: Episode 0836)
Kids try to put on pullover sweaters.
Cartoon: Three men in a horse costume want three cups of coffee. (EKA: Episode 0592)
Cartoon: Two small stripes watch as two circles play with each other. The stripes try to bend themselves into circles, but soon find that they can both cooperate to make one big circle. (EKA: Episode 0829)
Luis puts together a broken N.
Cartoon: A photographer tries to look for some animals quietly, but they all end up secretly following him. (EKA: Episode 0845)
Cartoon: A tiny ant pushes the huge N into its place in the alphabet. (EKA: Episode 0868)