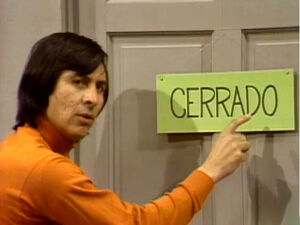 A macaw bird asks Big Bird to sit on his egg.
Cartoon: A man invites an M to dinner. The M is very appreciative, and makes "Mmmmmm" sounds. It eats all of the food at the table, and winds up eating the screen! (EKA: Episode 0276)
Film: A boy goes to the dentist and gets his teeth cleaned. (EKA: Episode 0881)
Luis tries to open a door marked with a "CERRADO" sign. He gets a running start, when Maria changes the sign to read "ABIERTO." She opens the door and Luis runs right through it, crashing. (EKA: Episode 0702)
Cartoon: A drowsy wagoner gets across a clearing by building a bridge out of his ox-cart, and converting it back again. (EKA: Episode 0815)
Ad blocker interference detected!
Wikia is a free-to-use site that makes money from advertising. We have a modified experience for viewers using ad blockers

Wikia is not accessible if you've made further modifications. Remove the custom ad blocker rule(s) and the page will load as expected.