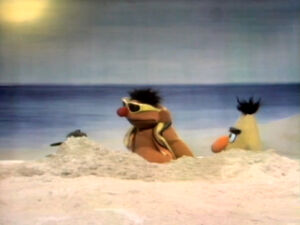 Cartoon: A top-hatted man tries to show a girl how many uses a box has, but she prefers kicking it.
Big Bird and the kids sort hats by size.
Film: A gymnast shows up and down.
Cartoon: Two dots play hide-and-seek amongst different shaped blocks. (EKA: Episode 0833)
The letter S joins U and N to make the word SUN. Some Anything Muppets appear in beach gear to bask in the sun.
Cartoon: Various demonstrations of DOWN and UP
Ad blocker interference detected!
Wikia is a free-to-use site that makes money from advertising. We have a modified experience for viewers using ad blockers

Wikia is not accessible if you've made further modifications. Remove the custom ad blocker rule(s) and the page will load as expected.