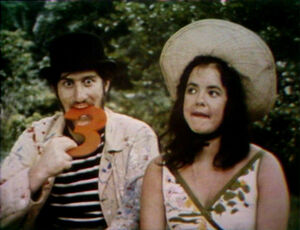 Big Bird tells Mr. Hooper strange stories to justify the disappearance of a bucket of water.
Animation: A red ball with dots tries to join a group of red balls with black stripes. (EKA: Episode 0839)
Animation: As children speculate about a circle being drawn, it becomes the eye of a friendly monster. (EKA: Episode 0843)
Song: "Riding on a Train"
Cartoon: A hand draws a castle with a growling dragon inside, which scares the princess until her knight in shining armor leads the dragon away.
Cartoon: A sprightly seal tells the story of six silly sailors who split up on a see-saw. (First: Episode 0002)
A group of people make S words.
A monster shows "abierto" and "cerrado."
Cartoon: A bird subtracts two balloons from a group of three. (EKA: Episode 0597)
People find different uses for a newspaper.
Cartoon: A hammer and screwdriver work together to cut out a triangle. A pencil comes and uses the cutout as a stencil.