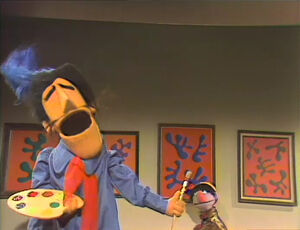 Oscar the Grouch takes guitar lessons. He practices until he sounds really awful.
David has trouble learning to ride a bike.
Sesame Street News Flash: Aladdin is distressed that his lamp won't work until Kermit informs hims that he needs to add a light bulb, plug in the cord, and turn the switch. All the while, the Genie wisecracks about his job and trying to get some sleep inside a lamp.
Biff hangs Salvador Dada's paintings in an art gallery. The one with 2 splunges is called #2, the one with 3 splunges is called #3, and the one with 4 splunges is called #4. However, when Biff figures them out, he predicts the painting with 5 splunges is called #5, but Salvador calls that one "Chicken Soup."