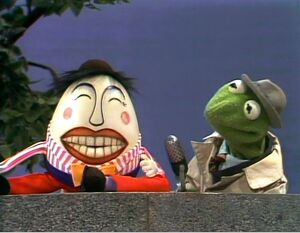 Cartoon: A man weighs five pounds of bubble gum. He chews it all, blows a huge bubble, and flies away. (EKA: Episode 0814)
The Alphabet Dancers form the letter X.
Cartoon: A girl lying in bed imagines seeing cracks in the wall turning into monsters. (First: Episode 0818)
Ernie and Bert: Ernie and Bert have pizza and grape juice. Bert complains that Ernie has more of each, so Ernie tries to make it even by eating some of his pizza and drinking some of his grape juice, but then Bert has more. And so on. (EKA: Episode 0294)
Ad blocker interference detected!
Wikia is a free-to-use site that makes money from advertising. We have a modified experience for viewers using ad blockers

Wikia is not accessible if you've made further modifications. Remove the custom ad blocker rule(s) and the page will load as expected.