Sesame Street
Plot
Everybody on Sesame Street comes to sing along with Bert.
Air date
April 23, 1976
Season
Season 7 (1975-1976)
Sponsors
B, M, 7

This episode guide has been compiled from materials at the CTW Archives.

ⓘ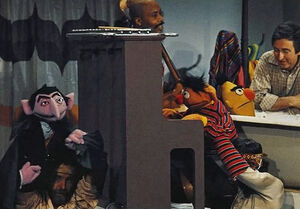 Kermit's Lectures: Kermit and Grover demonstrate the difference between heavy and light. Grover carries heavy objects, and Kermit carries light objects. Grover gets tired, and asks Kermit if he can carry something light for a change. Kermit obliges. He carries a giant sandwich... while Grover picks up a helium balloon, which carries him away!
Cookie Monster is about to eat a cookie, when a sad-looking girl approaches and stares at him. He tries to eat the cookie, but can't do it. He breaks the cookie in half and shares the cookie with the girl. He eats his half of the cookie. When the girl eats her half, she eats it just like Cookie Monster. (EKA: Episode 0730)
Story: Maria tells the story of "The King's Problem". The King has a problem, and the tallest, smartest, and fastest people in the kingdom think that they can solve it. The problem is that his crown fell under his throne, but none of them can reach it. The King realizes that the smallest person in the kingdom can fit underneath the throne and reach it. The smallest person in the kingdom retrieves the crown, and saves the day. (EKA: Episode 0407)
Cartoon: Marvelous Martha knows the many words beginning with the letter M. (First: Episode 0013)
Film: Jerry Nelson counts 20 backflips performed by a monkey.
Notes