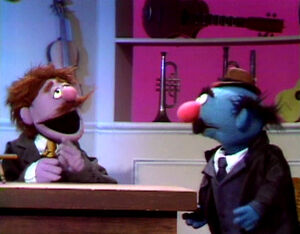 A goat sings a "Mad Goat Song". A dog pulls the goat's whiskers, and then a cat sets off a loud firecracker. A duck makes faces at the goat, and finally a pig refuses to share his ice cream with the goat. (EKA: Episode 0824)
Cartoon: Everyone on the beach discovers their names being with B.
Film: While watching her goldfish, a girl wonders what the world is like from her goldfish's perspective. (EKA: Episode 0709)
Susan and the kids sort using 3 stuffed animals and a wooden doll.
Cartoon: A little boy is excited because he is six years old today. (EKA: Episode 0302)
Film: A circle is superimposed over round objects.
Maria demonstrates the word "entrada."
Different people and animals react to the rain in different ways.
Cartoon: A little girl imagines what would happen if she dropped her bag of ping pong balls.