Ad blocker interference detected!
Wikia is a free-to-use site that makes money from advertising. We have a modified experience for viewers using ad blockers

Wikia is not accessible if you've made further modifications. Remove the custom ad blocker rule(s) and the page will load as expected.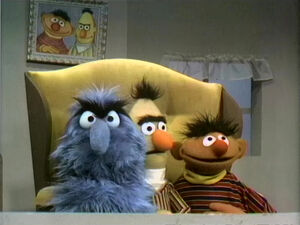 An Anything Muppet cowboy shouts across a canyon to hear the echo. "Yippee ki-yi-yo!" is repeated back to him perfectly. When he shouts "One!", the echo repeats back, "¡Uno!" The cowboy is startled. "Two!" he shouts, and the echo repeats, "¡Dos!" "You s'pose that's Mexico over there?" he asks. He continues to count to ten, with the echo repeating the numbers back in Spanish. Frustrated, he shouts, "How are you?" "¡Muy bien, gracias!" is the reply. "Oh, this is ridiculous," the cowboy says, and throws his cowboy hat into the canyon. A sombrero is thrown back in return. (EKA: Episode 0815)
Cartoon: "A Loaf of Bread, a Container of Milk, and a stick of Butter" -- A little girl remembers what to buy at the store by visualizing her mother giving the instructions. Artist: Jim Simon (EKA: Episode 0420)
Film: In slow-motion, a boy and his friends play in the snow.
Cartoon: "Danny knows the alphabet, and is he proud! If you can follow him, then sing out loud!" (EKA: Episode 0406)
Film: A gemsbok runs fast, then faster.
Cartoon: Abierto: Ali Baba arrives a bit late and gets run over by the 40 thieves leaving. (EKA: Episode 0573)