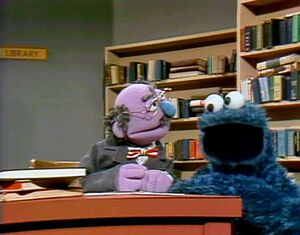 Big Bird imagines he is married, but changes his mind when he realizes that he's not quite ready for the responsibility.
Cookie Monster: At a library, Cookie Monster asks an Anything Muppet librarian for various books...and a box of cookies. Ultimately, he asks the librarian for just a box of cookies. The librarian becomes extremely frustrated because Cookie Monster doesn't understand the library doesn't have cookies! Cookie finally asks for a book about cookies...and a glass of milk! Then - since the library doesn't have milk, either - Cookie asks for a book about cookies and a glass of juice... (Here, the same concept as in The Electric Company's "Sweet Roll" sketch is recycled, at a somewhat slower pace. This version also goes a step or so further.)
Film: Mr. and Mrs. Snow (snowmen) talk about bottom, middle, head, and other body parts and clothing as their parts are put together. (EKA: Episode 0277)
Cartoon: Three chickens eat grain, and become full, fuller and fullest.
Gordon and the kids sort Russian nesting dolls by number.