Ad blocker interference detected!
Wikia is a free-to-use site that makes money from advertising. We have a modified experience for viewers using ad blockers

Wikia is not accessible if you've made further modifications. Remove the custom ad blocker rule(s) and the page will load as expected.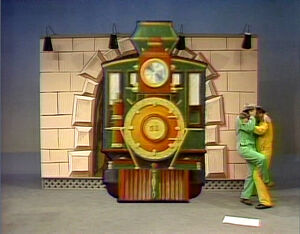 Bob and Luis put together two halves of a painting of a train tunnel. When they fit the parts together, a train goes through the tunnel and zooms to take up the entire screen, frightening Bob and Luis so much, they take down the tunnel again. (EKA: Episode 0746)
Cartoon: Two dots play hide-and-seek amongst different shaped blocks. (EKA: Episode 0833)
Cartoon: Things say that other things are small, but then something comes along that's bigger, or smaller, or whatever. (EKA: Episode 0320)
Cartoon: Two men, one named Virgil Veep, discuss the letter V as they stand atop a capital V. (First: Episode 0110)
Film: Two men, Big and Little, travel around playing the tuba and violin. Even though they're different (Big has dark skin, and Little has light skin), together they make beautiful music. (First: Episode 0016)
Cartoon: "N" - Nancy the nanny goat nibbles her nails and notices noodles. (EKA: Episode 0306)
Film: Future careers: footage of a kid acting out a certain job, followed by an adult doing "the real thing." (EKA: Episode 0796)
Cartoon: Two kids find different uses for a cooking pot. (EKA: Episode 0825)
A member of the Little Theatre of the Deaf acts out the word "WALK."