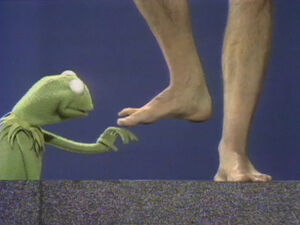 Big Bird invents a game in which people try to guess the things they feel with their hands.
Cookie Monster and Ernie: Ernie has four apples, and wants to draw the number 4 to represent that quantity. Cookie Monster comes along and wants to eat an apple, so Ernie crosses out the 4 and draws a 3, but then Cookie Monster decides not to eat the apple, so Ernie crosses out the 3 again and draws another 4. (EKA: Episode 0292)
Count von Count withdraws all his money from the bank to count it. He deposits it again, but not before counting it one more time. (EKA: Episode 0672)
Cartoon: A farmer plants big, bigger and biggest trees. (EKA: Episode 0319)
Luis sorts by form in Spanish.
Film: A girl narrates a film of her grandpa putting a horseshoe on their horse. (EKA: Episode 0679)
Cartoon: Cartoon: Vaudeville duo Herman Happy and Stanley Sad sing a song about how they live up to their names. (EKA: Episode 0789)
Ad blocker interference detected!
Wikia is a free-to-use site that makes money from advertising. We have a modified experience for viewers using ad blockers

Wikia is not accessible if you've made further modifications. Remove the custom ad blocker rule(s) and the page will load as expected.