Ad blocker interference detected!
Wikia is a free-to-use site that makes money from advertising. We have a modified experience for viewers using ad blockers

Wikia is not accessible if you've made further modifications. Remove the custom ad blocker rule(s) and the page will load as expected.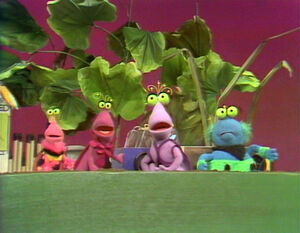 Cookie Monster orders a radio, but instead he gets a box containing its parts.
Cartoon: Two small stripes watch as two circles play with each other. The stripes try to bend themselves into circles, but soon find that they can both cooperate to make one big circle. (EKA: Episode 0829)
Charlie is lost and finds a policeman. It's his Uncle Louie, but he doesn't recognize him in uniform. Without the uniform on, Charlie asks Uncle Louie to find him a policeman. (First: Episode 0135)
Cartoon: A baby bird falls from a tree. A boy puts him back, and in return, the mother bird saves the boy from embarrassment. (EKA: Episode 0824)
Maria and the kids sort by class using some animals and a carrot.
Cartoon: A man illustrates 'between' in various situations throughout his work day.
Film: Kids narrate a visit to an automobile factory, and watch a taxi being made. (EKA: Episode 0242)
Cartoon: A square is fit into many different things, such as a truck, window, television, etc. (EKA: Episode 0827)
Lefty the Salesman wants to sell Ernie a painting of a tree, which he says is a picture of four elephants. Ernie doesn't see the four elephants, so Lefty offers to show him the elephants if Ernie will buy the picture for a nickel. Lefty points out the elephants, which are actually spaces in the tree's branches. Ernie shells out for the picture. Ernie wants to pull the same trick on Bert, but Bert notices the elephants right away. (First: Episode 0278)
Film: Footage of a coral reef, showcasing the plant life and the fish. (EKA: Episode 0824)