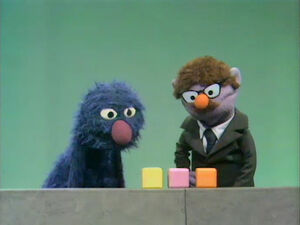 Big Bird plans to go on a vacation. While packing, he has the feeling he's forgotten something. He's forgotten to decide where to go for his vacation.
Bob and the Kids sing a song to explain all about the different kinds of clocks.
Grover the Assistant: Herbert Birdsfoot arranges three blocks for Grover to count. No matter how the blocks are arranged, they still add up to three. Herbert asks Grover to count some oranges as well. Grover confesses that he's good at counting blocks -- but he doesn't know how to count oranges! (EKA: Episode 0309)
Ernie and Bert: Ernie keeps taking glasses of water outside the apartment. Bert thinks of possible uses Ernie could have for this water. As it turns out, the kitchen faucet is broken, and Ernie's trying to get rid of the water before the apartment floods. (EKA: Episode 0669)
Cartoon: The great Alphonso and his trained X's perform a circus routine. (EKA: Episode 0299)
Cartoon: A STOP sign commands a train to stop.
Costume parts are added to a clown.
Cartoon: Little girl and cat (she imagines role reversal) (EKA: Episode 0815)
Film: A gymnast demonstrates 'beginning' and 'end.'
Cartoon: Policemen find clues that lead them to a stolen tub. (EKA: Episode 0868)