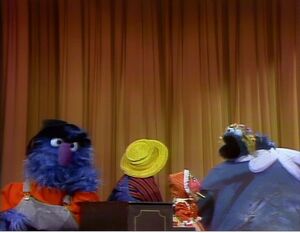 Ernie and Bert: Ernie gets emotional during a movie: first he's scared, then sad, then happy. His reactions bother the other moviegoers, and the scene ends in chaos. (EKA: Episode 0666)
A chicken is used to count to 5.
Film: A look at the life of Colleen, who lives in Arizona. (EKA: Episode 0679)
Cartoon: A wrench turns screws
Maria tries to build a block tower that matches an already-built one.
Cartoon: Several kids are sad, but become happy when a fruit vendor appears.
Ad blocker interference detected!
Wikia is a free-to-use site that makes money from advertising. We have a modified experience for viewers using ad blockers

Wikia is not accessible if you've made further modifications. Remove the custom ad blocker rule(s) and the page will load as expected.