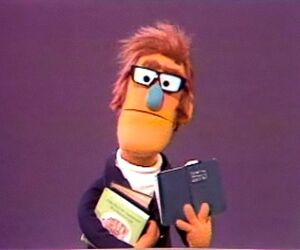 Oscar the Grouch uses an orange juice squeezer to mash up fruits and vegetables.
Batman and Robin catch crooks who have dirty windows, teaching the opposite pairings of clean and dirty. (First: Episode 0099)
Cartoon: A boy imagines multiple uses for his broom.
Film: David asks the viewer to find a rectangle and two circles in the picture of a doorbell.
Cartoon: At the circus, Tommy Trueheart displays his 11 trick-performing lions.
Big Bird talks about the word "open."
Cartoon: A photographer tries to look for some animals quietly, but they all end up secretly following him. (EKA: Episode 0845)
Cartoon: Mr. Tweak can't sleep because his neighbor above snores, and his neighbor below sneezes. (EKA: Episode 0598)
Cartoon: A man (voiced by Gary Owens) explains how H starts the word "Hello", which is then demonstrated by people calling him and asking for someone named Harold. (First: Episode 0020)
Cartoon: A little girl tries to figure out why a dog is crying. (EKA: Episode 0862)
Ad blocker interference detected!
Wikia is a free-to-use site that makes money from advertising. We have a modified experience for viewers using ad blockers

Wikia is not accessible if you've made further modifications. Remove the custom ad blocker rule(s) and the page will load as expected.