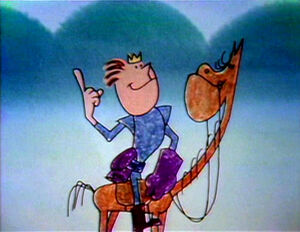 Ernie and Bert: Ernie is painting a portrait of Bert, but paints him with curly hair, glasses and a beard. When Bert gets angry about this, Ernie takes him behind the easel and puts curly hair, glasses and a beard on Bert. (EKA: Episode 0683)
Ernie and Bert: Bert tells Ernie not to eat cookies in bed, because he might get crumbs in the bed. Ernie decides to eat cookies in Bert's bed instead. (EKA: Episode 0322)
Cartoon: A mad inventor (voice of Arnold Stang) reveals his greatest invention: a capital letter H. He throws a switch, and the letter H stands up.
Sesame Street News Flash: Kermit witnesses as Old King Cole calls for his pipe and bowl (both of which he rejects), followed by his fiddlers three (along with a drummer, a saxophone player, and a bass player).
Cartoon: Presenting the pepper shaker! The shaker fills the screen with pepper.
Gordon and the kids sort by function using sources of light and a frying pan.
Ad blocker interference detected!
Wikia is a free-to-use site that makes money from advertising. We have a modified experience for viewers using ad blockers

Wikia is not accessible if you've made further modifications. Remove the custom ad blocker rule(s) and the page will load as expected.