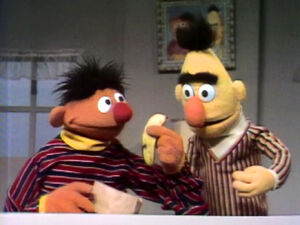 Ernie asks the Kids if they can clap their hands. They all clap together. At the end, Ernie and Greg exchange giggles. (First: Episode 0803)
Film: Monkeys swing between trees.
Cartoon: A girl imagines what it would be like to be a piece of gum.
Film: Two kids help an old Chinese man get his dragon kite in the air. (EKA: Episode 0792)
Film: A gymnast demonstrates 'close to' and 'away from.'
A drummer calls attention to the word "EXIT."
Ad blocker interference detected!
Wikia is a free-to-use site that makes money from advertising. We have a modified experience for viewers using ad blockers

Wikia is not accessible if you've made further modifications. Remove the custom ad blocker rule(s) and the page will load as expected.