Sesame Street
Plot
Big Bird and Snuffy use the alphabet to demonstrate soft and loud.
Air date
March 30, 1976
Season
Season 7 (1975-1976)
Sponsors
A, P, 11

This episode guide has been compiled from materials at the CTW Archives.

ⓘ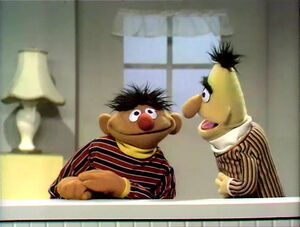 Ernie & Bert — Bert says that he's going to demonstrate quiet by talking quietly to Ernie. But when he tries, Ernie claims that he can't hear what Bert is saying. Finally, Bert gets frustrated and shouts at Ernie; Ernie tells Bert not to be so loud. (First: Episode 0150)
Film: Kids paint various animals that begin with "P" on a window. (First: Episode 0119)
Cartoon: Five purple konkers disappear one by one, until two of them have a yellow honker together. (EKA: Episode 0812)
Cartoon: Two kids find different uses for a cooking pot. (EKA: Episode 0825)
Film: A black ball rolls up to a mobile of fish and imagines the fish are real.
Cartoon: A little boy follows signs until he reaches the SALIDA.
Film: A marching band forms a circle.
Cartoon: A photographer tries to look for some animals quietly, but they all end up secretly following him. (EKA: Episode 0845)
Film: A bald eagle flies over houses, a beach, and other locations. (EKA: Episode 0411)
Film: Animals and children bathe in water.