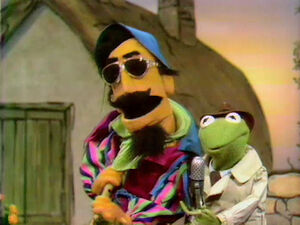 Everybody has to pay two cookies to hear the Cookie Monster Alphabet.
The mailman finds out that all the mailbags he's delivering at the Count's home are full of letters that the Count has written to himself. He likes counting the letters. (EKA: Episode 0592)
Big Bird and Cookie Monster open a business called The High and Low Company. Big Bird will find things up high, and Cookie Monster will find anything down low.
Film: A conductor yells "STOP" to his off-key violinist.
Cartoon: A boy talks about his pet letter Y, named Yetta. (EKA: Episode 0600)
Cartoon: A girl uses her paint-by-the-numbers set to find an elephant in her picture. (EKA: Episode 0803)
Luis classifies triangles by size.
Cartoon: A janitor sweeps up his own footprints the wrong way, then the right way. Just then, a giant centipede leaves tracks all over the floor. (EKA: Episode 0262)
Film: Several people help a man when his car is stuck in the mud. (EKA: Episode 0854)
Cartoon: A red man tries to get apples from a tree by himself, while a yellow man builds a ladder.
Ad blocker interference detected!
Wikia is a free-to-use site that makes money from advertising. We have a modified experience for viewers using ad blockers

Wikia is not accessible if you've made further modifications. Remove the custom ad blocker rule(s) and the page will load as expected.