Ad blocker interference detected!
Wikia is a free-to-use site that makes money from advertising. We have a modified experience for viewers using ad blockers

Wikia is not accessible if you've made further modifications. Remove the custom ad blocker rule(s) and the page will load as expected.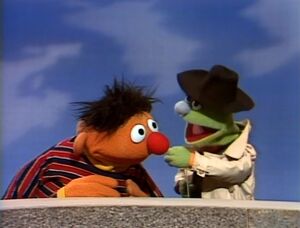 David uses a tape measure to measure a puppy. Oscar the Grouch claims that he dogsits for a friend whose puppy's tail measures fifteen feet four inches long.
Herry Monster wants to play in a band, but Bob finds that Herry is too strong to handle any musical instrument safely. Bob suggests that Herry conduct the band instead.
Cartoon: Building a dog house is easy if you have a ruler. (EKA: Episode 0824)
Cartoon: A witch turns a little girl into a variety of things, but the girl insists "I'm still ME!"
Song: "Riding on a Train"
Cartoon: A girl and her dog show here and there.
Film: African kids play at various activities, including a game with stones. (EKA: Episode 0181)
Song: "Watch the Dance": A singer points out the body parts of a dancer. (EKA: Episode 0752)