Ad blocker interference detected!
Wikia is a free-to-use site that makes money from advertising. We have a modified experience for viewers using ad blockers

Wikia is not accessible if you've made further modifications. Remove the custom ad blocker rule(s) and the page will load as expected.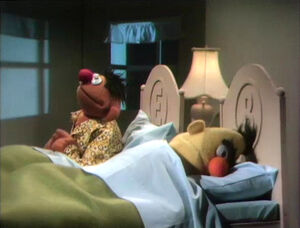 Ernie and Bert: Bert urges Ernie to go to sleep, but Ernie won't go to sleep until the person living upstairs drops his other shoe. When the shoe finally drops, Ernie wakes Bert up to tell him about it. (EKA: Episode 0176)
Cartoon: A bird flies, carrying a sign that says "PELIGRO". (EKA: Episode 0811)
Simon Soundman has the viewers guess what sound he is making. He makes the sound of a train, car, and a horse. When Simon makes the sound of the horse, a cowboy uses his lasso to capture Simon, mistaking him for a real horse. (EKA: Episode 0294)
Cartoon: A sprightly seal tells the story of six silly sailors who split up on a see-saw. (First: Episode 0002)
Containers are filled with various objects to show empty and full. (EKA: Episode 0863)
A Muppet boy tells his mother that a robber spilled his glass of milk. (EKA: Episode 0270)
Hubley animation: A bully won't give the kids' baseball back. The boy imagines a few scenarios before ultimately calling for his dog. (EKA: Episode 0235)
Classifying by function using baseball equipment and a hot dog.