Ad blocker interference detected!
Wikia is a free-to-use site that makes money from advertising. We have a modified experience for viewers using ad blockers

Wikia is not accessible if you've made further modifications. Remove the custom ad blocker rule(s) and the page will load as expected.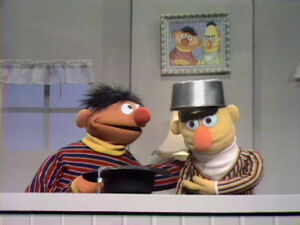 Snow White visits the house of the Six Dwarves; she has to count them several times before she realizes that she's in the wrong house. (First: Episode 0279)
Ernie and Bert: Ernie tries to put a pot on Bert's head. Bert asks Ernie why he's doing that, and Ernie says that he broke a cookie jar. Ernie has to put the cookies somewhere, so he put them in the sugar bowl – and put the sugar in the flowerpot, which meant that he had to put the flower in a milk bottle. He put the milk in the soda bottle, and the soda into the fishbowl, and the fish in Bert's cowboy hat. Bert asks, "Now what am I going to wear when I want to play cowboy?" Ernie puts the pot on Bert's head and says, "Ride 'em, cowboy, Bert!" (First: Episode 0279)
Cartoon: Three frogs show first, middle and last while hopping over each other.
Film: Kids narrate a tortilla contest in English and Spanish. (EKA: Episode 0573)
Cartoon: A female head is drawn as its voice-over lists its parts, ending with earrings that "do nothing" ... and promptly wiggle around. (EKA: Episode 0821)
Animation: The parts of an elephant puzzle are put together. (EKA: Episode 0841)
Biff classifies by size using some dump trucks.
Film: An ice cream man hands a boy too many cones. The boy cries out for "HELP" and some kids eat the extras.