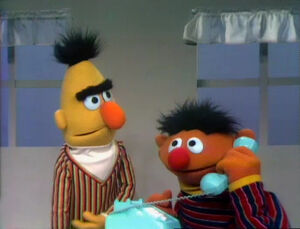 Big Bird runs out of birdseed, and tries other things to eat.
Big Bird hurts his beak, which he used to hammer a garage door. His friend Waldo Woodpecker suggested that he might find some worms to eat in the door.
Big Bird starts a "Bird Food Co-Op Store".
Big Bird writes a poem about water.
Ernie and Bert: Ernie answers the telephone. Bert overhears the conversation, which involves a baseball game, a rainy day, and a gorilla stealing a baloney sandwich. When Bert asks who just called, Ernie says it was a wrong number. (EKA: Episode 0694)