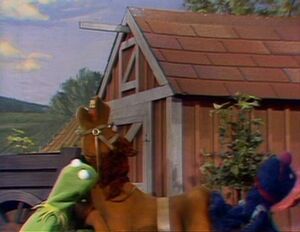 Mr. Hooper tries to have Big Bird spell "HOOPER". Big Bird tries to remember how to pronounce "Hooper".
Film: Two kids help an old Chinese man get his dragon kite in the air. (EKA: Episode 0792)
Ernie and Bert: Bert notices that Ernie has a piece of string tied on his finger. Ernie says that the string tied on this finger helps to remind him that there's a piece of string tied on this finger. And so on. The string on the last finger is there to remind him that they're out of string. (EKA: Episode 0355)
Film: The kids play a game of hopscotch, where they count the squares as the jumper hops through them.
Containers are filled with various objects to show empty and full.
Luis and Maria sort shapes by form.
Ad blocker interference detected!
Wikia is a free-to-use site that makes money from advertising. We have a modified experience for viewers using ad blockers

Wikia is not accessible if you've made further modifications. Remove the custom ad blocker rule(s) and the page will load as expected.