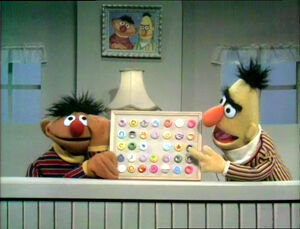 Oscar the Grouch writes a poem about crocodiles to prove that a Grouch can write better poems than Big Bird.
Film: Crocodile (EKA: Episode 0597)
Bert tells Ernie that his bottlecap collection is more exciting than anything in the world. Ernie is unhappy because he likes parades, circuses and birthday parties better than bottlecaps. (EKA: Episode 0257)
Parts of a picture of Ernie move around to make a whole picture.
Richard Pryor recites the alphabet.
Cartoon: Two monkeys argue over what to watch on TV, growing bigger the angrier they get. (EKA: Episode 0844)
Film: Through the "magic of film," two kids make various things and animals go, stop, go slow, and go backwards. (EKA: Episode 0162)
Cartoon: The man is only afraid of one thing: FEAR. (EKA: Episode 0816)
Film: A trip to the doctor's office. (EKA: Episode 0738)
Cartoon: "Lowercase N" (EKA: Episode 0425)
"Dandy David" adds flowers and flower pots. (EKA: Episode 0668)
Cartoon: Scissors cut paper.
Susan sorts by quantity using abstract art designs.
Cartoon: A monster sees a box that keeps opening and closing, saying "Abierto" and "Cerrado" (EKA: Episode 0817)
Cartoon: A little girl tries to figure out why a dog is crying.
Film: STOP (First: Episode 0047)
Cartoon: A hammer hits a nail.
Speech Ballloon: "L" - lake (EKA: Episode 0295)
Ad blocker interference detected!
Wikia is a free-to-use site that makes money from advertising. We have a modified experience for viewers using ad blockers

Wikia is not accessible if you've made further modifications. Remove the custom ad blocker rule(s) and the page will load as expected.