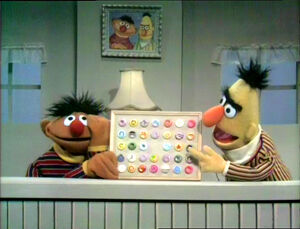 Parts of a picture of Ernie move around to make a whole picture.
Cartoon: Two monkeys argue over what to watch on TV, growing bigger the angrier they get. (EKA: Episode 0844)
Film: Through the "magic of film," two kids make various things and animals go, stop, go slow, and go backwards. (EKA: Episode 0162)
Cartoon: Scissors cut paper.
Susan sorts by quantity using abstract art designs.
Cartoon: A monster sees a box that keeps opening and closing, saying "Abierto" and "Cerrado" (EKA: Episode 0817)
Cartoon: A little girl tries to figure out why a dog is crying.
Cartoon: A hammer hits a nail.
Ad blocker interference detected!
Wikia is a free-to-use site that makes money from advertising. We have a modified experience for viewers using ad blockers

Wikia is not accessible if you've made further modifications. Remove the custom ad blocker rule(s) and the page will load as expected.