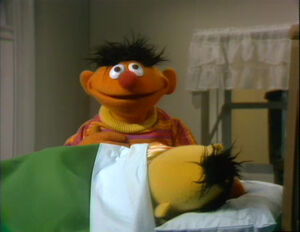 Luis and David decide to swap jobs. Luis will work in Hooper's Store, while David takes over the Fix-It Shop. They realize that they're not good at their new jobs, and they go back to their old roles.
Cartoon: Gloria, a rambunctious little girl, sings the alphabet song while an adult gives her instructions. (First: Episode 0010)
Film: A figure skater illustrates forward and backward. (EKA: Episode 0600)
Cartoon: Five purple konkers disappear one by one, until two of them have a yellow honker together. (EKA: Episode 0812)
Count von Count: The Count extinguishes electric candles by counting them with his finger. As he heads up the stairs for bed, he steps on Fatatita. He also tells his wolf Yuba to run and play with his friends. (EKA: Episode 0685)
Film: Wheel rolls away from garbage, boy captures it to complete his wagon. (EKA: Episode 0767)
Ad blocker interference detected!
Wikia is a free-to-use site that makes money from advertising. We have a modified experience for viewers using ad blockers

Wikia is not accessible if you've made further modifications. Remove the custom ad blocker rule(s) and the page will load as expected.