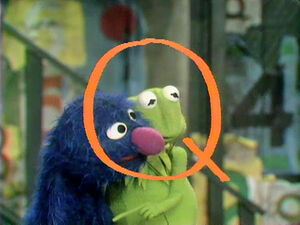 Ernie and Bert: Ernie thinks that he isn't special. Bert tells Ernie to feel his nose -- "That's an Ernie nose!" -- and then feel his hair, and wiggle his fingers. Bert says that nobody else is just like Ernie. Encouraged, Ernie tells the audience to do the same. (First: Episode 0276)
Ernie and Bert: Ernie can't sleep, so Bert tells him to count sheep. Ernie tries to count sheep, but it's dull -- so he starts counting fire engines. The noise from the imaginary fire engine wakes Bert up. Bert says that Ernie's waking up the whole neighborhood, and tells him to count something quieter. Ernie counts balloons -- but the balloon gets bigger and bigger, finally bursting with a huge explosion that wakes Bert up again. (First: Episode 0276)
Big Bird asks several children to stop him before he makes mistakes while drawing a picture of Bert.
Kermit and Grover draw a Q on the screen.
Cartoon: A shoemaker shows how he measures (human) feet with his ruler. (EKA: Episode 0760)
Film: Kids narrate a tortilla contest in English and Spanish. (EKA: Episode 0573)
Susan sorts by quantity using pots of flowers.
Cartoon: A girl runs home to her CASA.
Film: Footage of a road being constructed intercuts with clips of kids digging a road in the sand on the beach. (EKA: Episode 0310)
Film: A clown (Dennis Allen) takes off his make-up. Which face do you like better? (EKA: Episode 0517)
Film: A boy compares the growth of sunflowers to his own height.