Ad blocker interference detected!
Wikia is a free-to-use site that makes money from advertising. We have a modified experience for viewers using ad blockers

Wikia is not accessible if you've made further modifications. Remove the custom ad blocker rule(s) and the page will load as expected.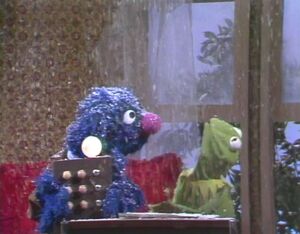 Mr. Macintosh, the fruit vendor, and Willy the hot dog man don't like to work close to each other. Later, they find out they need to have each other near.
Oscar the Grouch minds his friend Melvin Meany's plants while Melvin is away. To Oscar, all the plants look like Grouch plants, except for one that looks green and leafy. That one turns out to be poison ivy.
Kermit at Home: Salesmonster Grover comes to Kermit's home to sell him weather. As part of his pitch, he demonstrates a machine that makes it snow, makes it windy, and then makes it rain in Kermit's living room.
Ernie and Bert: Bert tells Ernie that if he can clean the messy apartment in fifteen seconds or less, he will give Ernie his dessert: ice cream and cookies. (First: Episode 0033)
Cartoon: A girl lying in bed imagines seeing cracks in the wall turning into monsters. (First: Episode 0818)
Cartoon: Various renderings of the word DANGER.
Ernie and Bert: Ernie pretends to be a dog and a duck. Bert then pretends to be a train, and does it so well that a train conductor and passengers come through the apartment. (EKA: Episode 0700)
Cartoon: A man weighs five pounds of bubble gum. He chews it all, blows a huge bubble, and flies away. (EKA: Episode 0814)