Sesame Street
Plot
The Wicked Witch of the West loses her broom on Sesame Street.
Air date
February 10, 1976
Season
Season 7 (1975-1976)

This episode guide has been compiled from materials at the CTW Archives.

ⓘ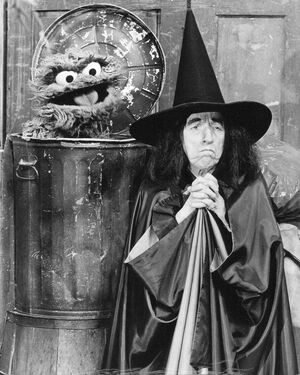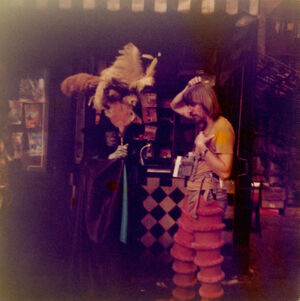 The Wicked Witch of the West (played by Margaret Hamilton, reprising her role from the 1939 film The Wizard of Oz) flies over Sesame Street and loses her broom. The magical cleaning tool falls into the hands of David; afraid of what the witch might do with it, he refuses to give the broom up. The Wicked Witch responds by making it rain inside Hooper's Store and even threatens to turn Big Bird into a feather duster and David into a basketball.
Only Oscar the Grouch initially admires her and suspects he may even have a crush on the witch. The remainder of the episode's street scenes follow the witch's attempts to retrieve the broom, including disguising herself as a harmless old lady. Big Bird grows to like her, and is saddened when the witch departs, but she drops the broom yet again. The stated curriculum goals of the episode were to demonstrate fear and "the value of planning by creating and implementing methods of retrieving the broom."[1]
This episode prompted an unusually large amount of mail responses from parents, almost entirely negative, within a short time frame. Typical responses included parents concerned that their children were afraid and now refused to watch the show, using such phrases as "screams and tears" and "the threat of the witch's power remains in children's eyes." A somewhat atypical missive came from a self-proclaimed Wiccan, concerned with the perpetuation of a negative fairy tale stereotype and recommended a segment "portraying witches as they really are, now."[2]
Due to the overwhelming reaction, additional test screenings were held from March 1 through the 5th, "to assess children's reactions to the Wicked Witch of the West." The tests showed that children were "exceptionally attentive during the Margaret Hamilton segments," and those who watched the episode in color were fascinated by her green face. The issue of fear was difficult to fully judge, due to confusing answers and the fact that the children were surrounded by their peers and adults, and not alone watching. However, due to the parents' reactions, the letter content and testing observations, Anna Herera of the CTW Research Department suggested "that the Margaret Hamilton show not be re-run."[3]
Sources
↑ "Wicked Witch to Drop Broom on Sesame Street." Chronicle-Telegraph. February 8, 1976
↑ Letter. February 10, 1976. Accessed at the CTW Archives.
↑ Memorandum. April 4, 1976. Accessed at the CTW Archives.