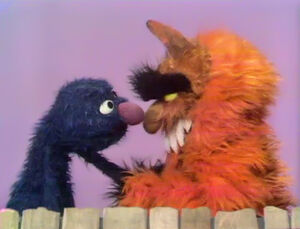 Muppet & Kid Moments: Kermit asks Joey if they can say the alphabet together. Joey and Kermit say the alphabet, but Joey adds "Cookie Monster!" in among the letters. Kermit gets insulted, and walks off. Joey says, "I love you," and Kermit comes back to tell her that he loves her too. She kisses him. (EKA: Episode 0536)
Animation: A girl wants to show something scary. She finds a monster, who runs away in fright when he sees her.
Cartoon: At night, a group of mice are scared of a monster in the woods. They describe its features until the feared monster looks like an elephant - who is more scared of the mice. (EKA: Episode 0814)
Cartoon: A photographer tries to look for some animals quietly, but they all end up secretly following him.
Cartoon: "Count Up Elevator" -- An elevator operator stops at ten floors to pick up passengers, including a witch, a fireman, and a kangaroo. The tenth passenger, a mouse, causes the elevator to overload and explode. (First: Episode 0003)
Cartoon: Tall/Short Ducks -- Two birds compete about who is taller. (EKA: Episode 0303)