Ad blocker interference detected!
Wikia is a free-to-use site that makes money from advertising. We have a modified experience for viewers using ad blockers

Wikia is not accessible if you've made further modifications. Remove the custom ad blocker rule(s) and the page will load as expected.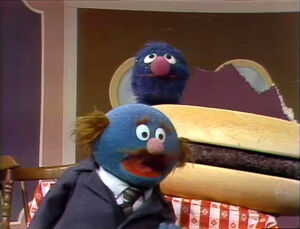 Waiter Grover: Mr. Johnson wants a hamburger. The restaurant offers two sizes: the big hamburgers and the small hamburgers. When the small hamburgers are too small, he orders a big one, but because there have been some problems with the big hamburger, Grover tries to convince him to order several small ones. Mr. Johnson finally loses his patience and demands his large hamburger. Grover winds up delivering a colossal-sized hamburger that he is barely able to carry; the burger is so huge that he crashes through the doors and adjacent walls, causing damage. (EKA: Episode 0705)
Ernie and Bert: Ernie has six jellybeans, and Bert has seven. Bert thanks Ernie for giving him the extra jellybean. Ernie says that isn't fair -- they should have an equal amount. To make it even, Ernie eats the extra jellybean. That's fair, isn't it? (First: Episode 0014)
Cartoon: A drowsy wagoner gets across a clearing by building a bridge out of his ox-cart, and converting it back again. (EKA: Episode 0815)
Cartoon: Two monkeys argue over what to watch on TV, growing bigger the angrier they get.
Cartoon: Simple Simon meets some strange-looking animals, all of whom have their parts switched around.
Cartoon: The Villain in the Panama Hat (V)